Gepfeffert / KW Porsche 993 C2 C4 V3 Coilovers
Gepfeffert / KW Porsche 993 C2 C4 V3 Coilovers
£3,088.00 – £4,240.00 inc VAT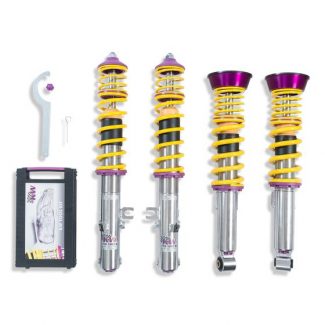 Fits:
Porsche 993 C2 C4 10/1993>>
Normal version Lowers car by: F 20-40mm / R 10-30mm
Gepfeffert Version : FT 40-90mm / R 40-90mm
Gepfeffert Clubsport Version : FT 40-100mm / R 40-100mm
• Independently adjustable damping technology -rebound and compression damping
• inox-line stainless steel technology at no extra charge
• Individual height adjustment
• German TUV-tested adjustment parameters
• High-quality components for long life
• Comprehensive documentation for ease of use
• Infinitely adjustable rebound damping
• 14- level adjustable compression damping
• Unique, independently functioning damping power adjustment
Variant 3 race technology for the road with adjustable compression and rebound damping. The new Variant 3 is state-of-the-art technology for the skilled and experienced driver. The separate and independent compression and rebound damping options allow a truly individual driving set-up. These unique systems with the 3 individually adjustable components, allows for adjustment of the compression of the damper in the low-speed range, while the highspeed set-up, so decisive for driving comfort, has been preset by our engineers.
The Product is a version with extreme lowering beyond the KW standard lowering adjustment area.Due to vehicle-specific tolerances, additional work & modifications may be necessary on the vehicle. Any of those arising costs incurred in this regard will not be borne by KW automotive GmbH or StillStatic Limited
After installation of coilover suspension, the clearance of drive shafts and the wheel/tyre combination to any kind of safety relevant parts, must be checked in all driving and max. load conditions.
If necessary, the vehicle ride height must be adjusted higher or the rebound suspension travel must be additionally limited. In any case, however, the national legally prescribed minimum ride heights on the vehicle must be observed (direction indicators, light beam angle etc.).
KW automotive GmbH and / or StillStatic Limited accepts no liability for any damage that may occur as a result of non-compliance with the above points.
HYBRIDair Coilover Lift Kit – 22mm Damper Rod Width

£

1,080.00 inc VAT

Damper Rod Diameter: 22mm Damper Rod Width

£

1,080.00 inc VAT
HYBRIDair Coilover Lift Kit – 22mm Damper Rod Width

£

1,080.00 inc VAT

Damper Rod Diameter: 22mm Damper Rod Width

£

1,080.00 inc VAT