H&R Height Adjustable Spring System Audi A3 Cabrio 2012> – 23017-2
Type 8V, 2WD, only vehicles with Multilink rear,with or without electronic damping, incl. Facelift 2017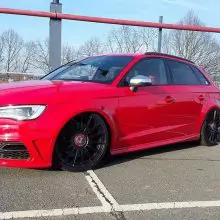 Shop by Car, Audi, A3 / S3 / RS3, Muecke-Carbon & Bodywork Parts ( Wider Wings )
1 set fiberglass wing Re-Li for Audi A3 8v widened 3 cm per side
unpainted, surface gelcoat gray
Material report is included, acceptance according to §21 StVZO (individual acceptance)
Please contact us about Muecke wings, as Brexit changes are changing how these can be shipped. They can be ordered, but please contact us to do so.
£

449.00 inc VAT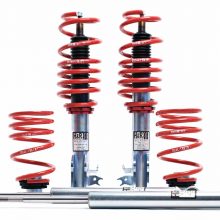 Suspension, H&R Coilover Suspension, Shop by Car, Audi, A4 / S4 / RS4, H&R Coilovers
The Race Kits utilise Bilstein's renowned monotube damper technology, the same technology used by BMW's official DTM teams. The steel dampers benefit from a triple-galvanised coating as well as H&R's own special protective layer to hold back corrosion. Combined with H&R's race-spec modular springs these coilovers deliver maximum performance. All applications are height adjustable and some applications have an extra-cost option for 18 damper settings. Lowering Range for this coilover 50-120mm Kits available as fixed damping or with hardness adjustment. Please contact us
[email protected]
for further queries.
£

1,985.00 –

£

2,720.00 inc VAT
£

1,985.00 –

£

2,720.00 inc VAT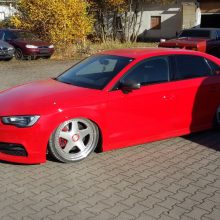 Shop by Car, Audi, A3 / S3 / RS3, Muecke-Carbon & Bodywork Parts ( Wider Wings )
When lowering a car, prime concern is clearance for the steering wheels. These quality Muecke wide wings are available for a variety of vehicles - in some cases in a variety of widths too. Stated widths are per side All of these wings are available in carbon fibre too, for an extra cost. Please contact us if this something you would like to look into, and would like a quote.
1 set fiberglass front wing R+L for Audi A3 8v saloon widened 3 cm per side
also fits facelift (8V2)
unpainted, surface gelcoat gray
Material report is included, acceptance according to §21 StVZO (individual acceptance)
for saloon models only
£

449.00 inc VAT