H&R Deep Coilover Kit for VW Golf MK8 R and 4Motion
H&R Deep Coilover Kit for VW Golf MK8 R and 4Motion
£1,799.99 – £2,099.99 inc VAT
H&R Deep Coilover Kit for VW Golf MK8 R + 4 Motion  inc Adjustable Camber Top Mounts 
The new Mk8 Golf use an evolution of the MQB platform, H&R again build a low version coilover that delivers an increase in performance and handling but also adds comfort over the original set up.
The suspension is available with or without EDC delete kit.
Approved lowering range 45-75mm, lowering upto 110mm possible.
The suspension has camber adjustable top mounts and fixed bilstein damping with H&R's own linear spring technology.
Suspension has 2 years warranty,
Unsure on the wheel fitment, or anything else? contact us [email protected]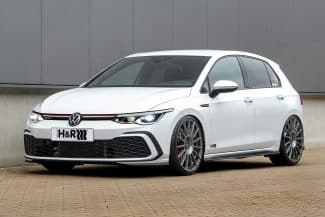 SRS-Tec Golf Mk8 Wider Wings

SRS-Tec

£

539.99 inc VAT

SRS-Tec

manufacturer - SRS Tec Fender GT (left and right) Vehicle manufacturer: VW Vehicle model: Golf 8 Type: CD Model year: from 12/2019 – Version: all, except GTE Product details The fenders in the original design are 2.2 cm widened on each side. Optimally suited for extreme lowering. No adjustments to the original front bumper are necessary. Suitable for all Golf 8 R and Variant, except GTE. Document Vehicle-specific TÜV report in accordance with StVZO §19.2, no entry required (in preparation!). material High quality, glass fiber reinforced composite material Product protection Our products and our design are protected by patents worldwide!

£

539.99 inc VAT
SRS-Tec Golf Mk8 Wider Wings

SRS-Tec

£

539.99 inc VAT

SRS-Tec

manufacturer - SRS Tec Fender GT (left and right) Vehicle manufacturer: VW Vehicle model: Golf 8 Type: CD Model year: from 12/2019 – Version: all, except GTE Product details The fenders in the original design are 2.2 cm widened on each side. Optimally suited for extreme lowering. No adjustments to the original front bumper are necessary. Suitable for all Golf 8 R and Variant, except GTE. Document Vehicle-specific TÜV report in accordance with StVZO §19.2, no entry required (in preparation!). material High quality, glass fiber reinforced composite material Product protection Our products and our design are protected by patents worldwide!

£

539.99 inc VAT