H&R Height Adjustable Spring System VW MK7 Golf 7 Sportsvan 2014> – 23017-3
Type AUV, 2WD, only vehicles with Torsion beam rear,with or without electronic damping, incl. Facelift 2017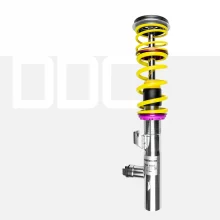 Volkswagen, Golf Mk7 / Mk7.5 / Mk8, KW Gepfeffert Coilover Suspension
Gepfeffert KW Coilover suspension for Golf Mk8 GTI GTE R 2WD + 4Wd Ø 55mm chassis, for use with original top mounts and retaining DDC Plug and Play function. This version offers more lowering range than the normal KW version. More Mk8 Golf Gepfeffert versions available enquire
[email protected]
Gepfeffert DDC without adjustable camber dome bearings
The gepfeffert DDC without adjustable camber dome bearings is mounted with the standard support bearings. We refer to the gepfeffert chassis without camber dome bearings as the "small depth version".
Definition "small depth version":
We distinguish here coilovers of the brand gepfeffert.com made by KW, with or without adjustable camber dome bearings (model & platform dependent). The suspensions 
without
 camber dome bearings have up to 35mm more lowering, compared to a standard KW coilover suspension.
Example Golf 7 GTI:
Series KW coilover suspension: adjustment range 20-45mm
GEPFEFFERT KW coilover suspension: adjustment range 35-70mm
These suspensions were built specifically for our customers, who have put the focus on a maximum of 15-35mm more lowering compared to a series KW coilover suspension, without using a gepfeffert version with camber dome bearing (Uniballlager). The chassis 
with
 adjustable camber dome bearings, on the other hand, have even greater "leeway" for even more lowering and even more upgrade options, in order to be able to tailor the vehicle even more individually to the requirements of the respective driver.
Example Golf 7 GTI:
Series KW coilover suspension: adjustment range 20-45mm
GEPFEFFERT KW "small depth version" without camber dome bearing: adjustment range 35-70mm
GEPFEFFERT KW with adjustable camber dome bearings: adjustment range 45-95mm (upgrade possibilities with other spring systems up to 130mm possible)
Chassis of the brand gepfeffert KW "small depth version" (without camber dome bearing) can of course also be found here in the online store.
Individual or maximum lowering
KW DDC coilovers are the intelligent suspension solution for retrofitting from the KW iSuspension product range. They combine the advantages of an adaptive damping system with a stylish and sporty lowering according to your individual ideas. The adaptive KW coilovers are available as KW DDC Plug & Play variants for vehicle models with electronically controlled standard suspension.
More comfort or more sport - you decide
More and more premium vehicles today are equipped with an adaptive suspension system. Until the market launch of KW DDC Plug & Play, you often had to compromise on an individual desired lowering and often even do without your extra paid active control systems and comfort features. In contrast, with the adaptive KW DDC Plug & Play coilovers, you are free of compromises and can combine the control of your standard damper system with a stepless lowering and the driving dynamics of a KW coilover suspension.
The gepfeffert.com® DDC Plug & Play coilover suspension made by KW
During installation, the standard struts are simply replaced with the KW struts manufactured in stainless steel technology "inox-line" and the adaptive KW dampers are connected to the standard on-board electronics using the original connectors from your car manufacturer. No further assembly steps are necessary with the KW DDC Plug & Play coilovers. The standard dampers can simply be replaced with the KW DDC (Dynamic Damping Control) coilover suspension. The existing control system and the switch installed in the interior for operating the damper control are retained.
Technical information:
- Stainless steel technology inox-line
- Individual, stepless lowering
- tested adjustment range
- ready-to-install complete solution
- High quality components for long service life
- complete documentation for easy use
Note: The picture may differ from the delivered product
The Product is a version that can achieve lowering beyond the KW standard lowering adjustment range. Due to vehicle-specific tolerances, additional work & modifications may be necessary on the vehicle. Any of those arising costs incurred in this regard these will not be borne by KW automotive GmbH or StillStatic Limited After installation of coilover suspension, the clearance of drive shafts and the wheel/tyre combination to any kind of safety relevant parts, must be checked in all driving and max. load conditions. If necessary, the vehicle ride height must be adjusted higher or the rebound suspension travel must be additionally limited. In any case, however, the legally specified minimum ride heights on the vehicle must be observed (direction indicators, light beam angle etc calibrated). KW automotive GmbH and / or StillStatic Limited accepts no liability for any damage that may occur as a result of non-compliance with the above points.
£

3,040.00 inc VAT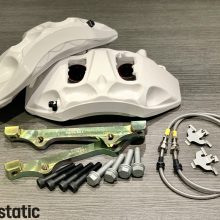 Scirocco / Corrado / Eos, Leon, Superb, Octavia, Passat CC, Touran, Tiguan, T Roc, Brake Adaption, Golf Mk7 / Mk7.5 / Mk8, Golf Mk4 / Mk5 / Mk6, Shop by Product Type, Caddy, Golf, TT / TTS/ TTRS, A3 / S3 / RS3, Volkswagen, Skoda, Seat, Audi, Shop by Car, Suspension
We offer a number of brake kits for the the following platforms. Golf 5 R32 , Golf 5 Gti ( fitted with R32 rear calliper ) , Golf 6 R , Golf 7 GTI , Golf 7 R , Audi S3 8V , Audi S3 8V , Audi RS3 8P , Audi RS3 8V, Audi TTS 8J , Audi TTRS 8J, Audi TTS 8S, Caddy 2K 2KN Example : Macan 345mm / Porsche 18Z 350mm / Akebono 380mm ,390mm, 400mm. The kit inlcudes reconditioned calipers finsished in the colour of your choice, decals, brake lines, feroddo pads or ebc pads, fitting hardware and brackets where required, disc centre rings where required.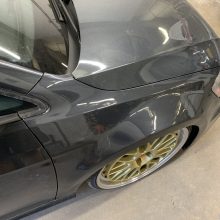 Golf Mk7 / Mk7.5 / Mk8, Muecke-Carbon & Bodywork Parts ( Wider Wings )
1 set left & right 3cm per side widened wings made of fiberglass, suitable for the original bumper
unpainted, surface gelcoat gray
Material report is included, acceptance according to §21 StVZO (individual acceptance)
Please contact us about Muecke wings, as Brexit changes are changing how these can be shipped. They can be ordered, but please contact us to do so.
£

449.00 inc VAT