H&R Height Adjustable Spring System VW T6 /T6.1 Transporter 2015>
Ob Festival, Tuningtreffen, 24h-Rennen oder Familienurlaub -unsere #HVF sind bedingungslos alltagstauglich. Jetzt auch auf Youtube:➤ https://youtu.be/27RJ9NEzkIU#HVF #HRspezialfedern #dasFaHRwerk

Posted by H&R on Wednesday, 2 May 2018
Type 7HC, 7HMA, 7J0, 2WD + 4WD Multivan, California / -Beach, Transporter, LKW inc Sportsuspension / Incl. adaptive shock system, Incl OE sport suspension
Out of stock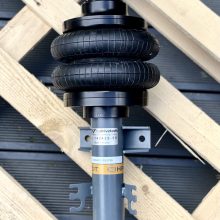 Transporter, Drivetech - Air Suspension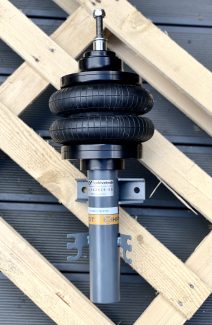 £

2,799.99 inc VAT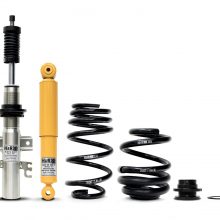 Transporter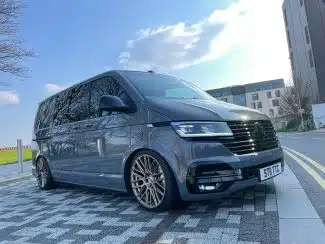 Transporter Deep Coilover made by H&R for StillStatic The kit is fixed damping. Comes with 2 years warranty. To fit Clamp type hub. H&R Transporter Fits T5 03/03> Multivan, Transporter, California, LKW inc Facelift ( Type 7HK, 7HKXO,7HM,7HMA,7HC,7HCA,7JO,2WD+4WD ) Lowering  T5 Models Front : 100mm Rear : 130mm ( bump stop modification required ) Fits T6 2015> Multivan, Transporter, California, LKW inc Facelift ( Type 7HC,7HMA,7JO, 2WD+4WD ) Lowering  T6 Models Front : 100mm Rear : 130mm ( Bump stop modification required ) Fits T6.1 2019> Multivan, Transporter, California, Beach ( Type1HC,7HMA,7LO,2WD+4WD ) Lowering T6.1 Models Front :100mm Rear :130mm ( Bump stop modification required ) *Note For vehicles with Electronic dampers use delete kit 93071-1 Contact us if your require fitting. ( example pictures shows our T32 with approx 15mm threads remaining in the front and 20mm threads remaining in the rear without load ) Example coilover image shown, delivered product may vary. Coilover image may vary from actual product.
£

2,079.99 inc VAT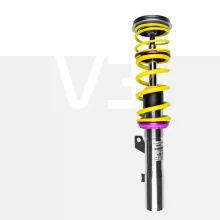 Shop by Product Type, Suspension, Transporter, KW Gepfeffert Coilover Suspension, T7 Transporter
Gepfeffert KW V3 coilover for Transporter T7
For more stability or ride comfort. With adjustable compression and rebound damping. The KW coilover suspension variant 3 "inox-line" is the ideal accessory for performance-oriented drivers and tuning enthusiasts who place a high demand on sportiness in their vehicles. The separately adjustable dampers in rebound and compression with their "TVR-A" and "TVC-A" technology allow extensive damper tuning. This makes it easy to directly influence turn-in behavior, directional stability, tire grip and handling characteristics to ensure safe controllability at the limit. Lowering range 50-100mm.
The gepfeffert.com® V3 coilover suspension made by KW
Via the separately and independently adjustable compression and rebound damping, the damper setup can be adapted to individual preferences in driving behavior or also to vehicle changes, such as weight, tire characteristics or altered vehicle stiffness. Only through this unique patented system is true performance optimization possible. For example, the pressure damping force can be increased to demand more grip from the tire, improve turn-in behavior and reduce start-up pitching, without simultaneously changing the rebound damping that optimally matches the spring rate, which would have a grip-reducing effect and thus result in a loss of performance.
Technical information:
- damping technology adjustable in rebound
- damping technology adjustable in compression
- Stainless steel technology inox-line
- Individual, stepless lowering
- tested adjustment range
- ready-to-install complete solution
- High quality components for long service life
- complete documentation for easy use
Note: The picture may differ from the delivered product
This version offers more lowering range than the normal KW version. The Product is a version that can achieve lowering beyond the KW standard lowering adjustment range. Due to vehicle-specific tolerances, additional work & modifications may be necessary on the vehicle. Any of those arising costs incurred in this regard these will not be borne by KW automotive GmbH or StillStatic Limited After installation of coilover suspension, the clearance of drive shafts and the wheel/tyre combination to any kind of safety relevant parts, must be checked in all driving and max. load conditions. If necessary, the vehicle ride height must be adjusted higher or the rebound suspension travel must be additionally limited. In any case, however, the legally specified minimum ride heights on the vehicle must be observed (direction indicators, light beam angle etc calibrated). KW automotive GmbH and / or StillStatic Limited accepts no liability for any damage that may occur as a result of non-compliance with the above points.
£

2,980.00 inc VAT